About Us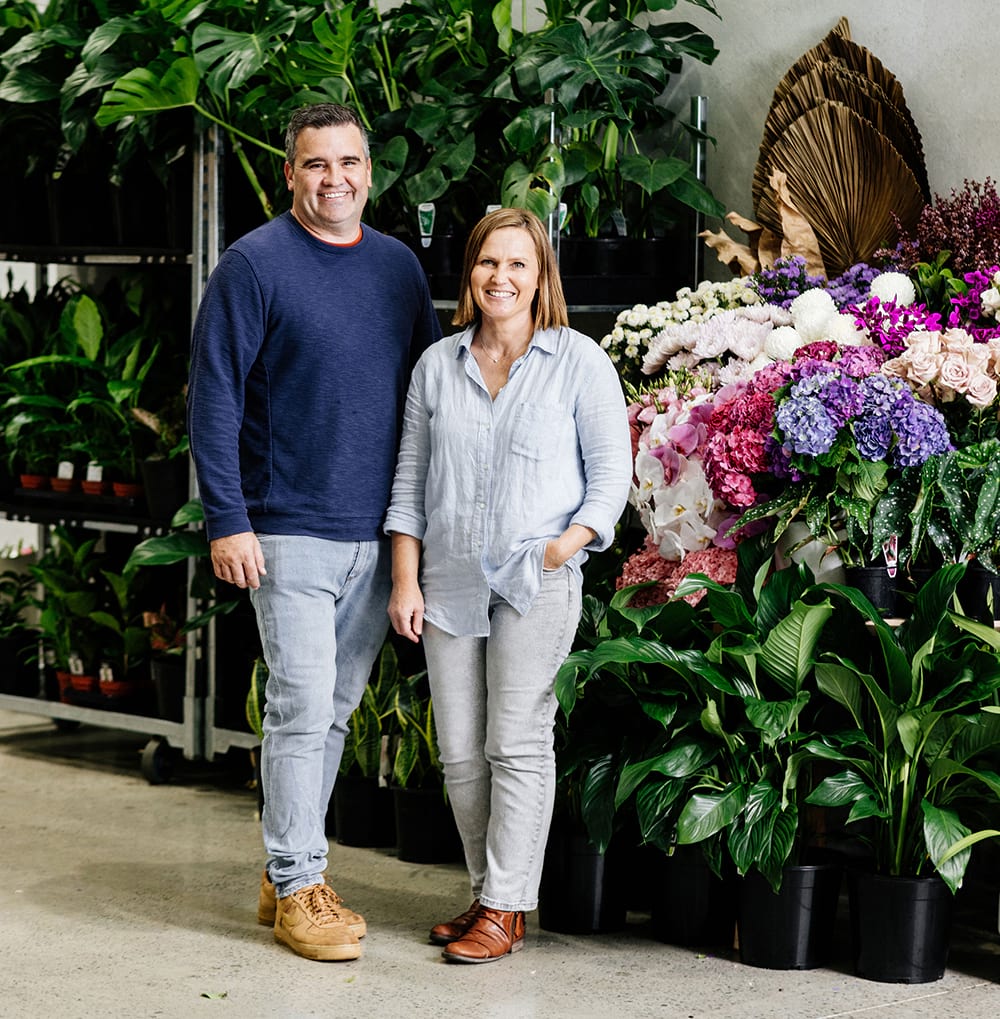 This is us! Winston and Carli Jeffrey at our floral workshop across from the Sydney Flower Markets.
Thank you for being a part of our flower legacy.
This year marks 120 years of flower growing and selling for our family. We're the fourth generation of florists, and have a proud history in the Sydney 'flower game'.
A trip down memory lane...

My Great Grandfather, Gaetano Guiffre (known as Tom) started flower growing at Mascot in 1902. He grew marigolds, violets, roses and snapdragons. Tom drove his flowers by horse and cart to the Queen Victoria Markets. He opened many florist shops in the CBD.

The young chap holding the big bunch of flowers is my Grandfather Tony. He sold flowers as a young boy in Martin Place. After the war he opened many florist shops around Sydney including the All Diggers Florist at Annandale, Kogarah and Enfield.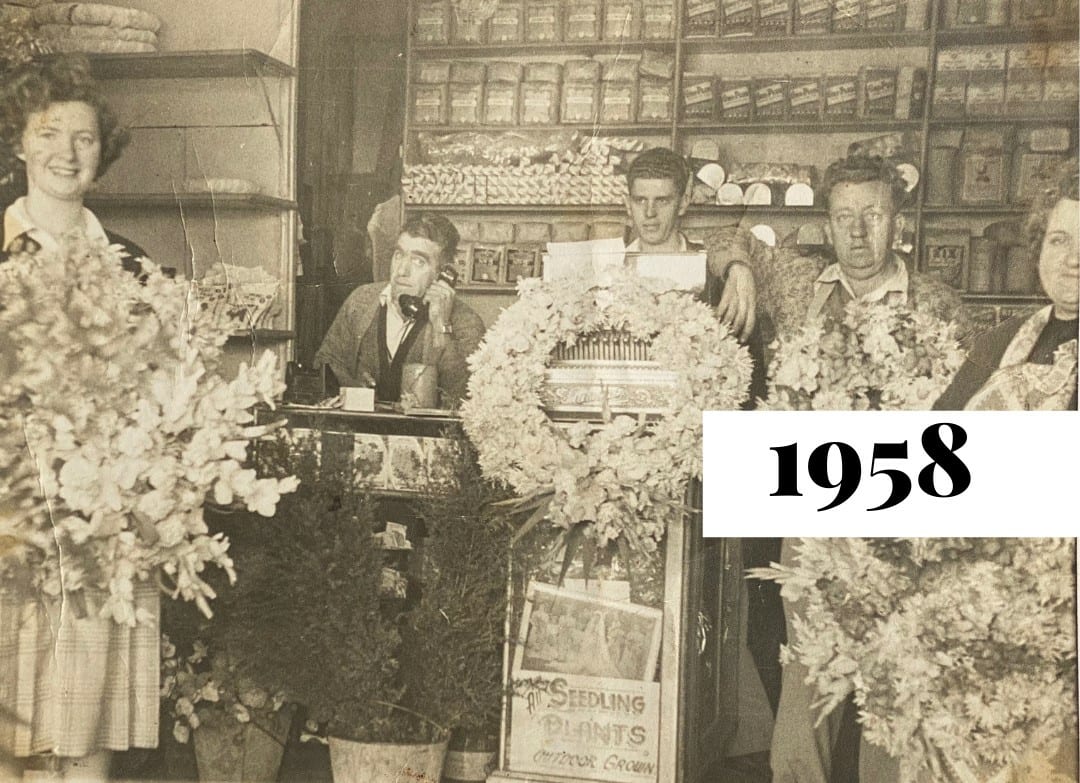 Second from the right is Grandfather Tony working at the All Diggers Florist and Nursery with his famous floral wreaths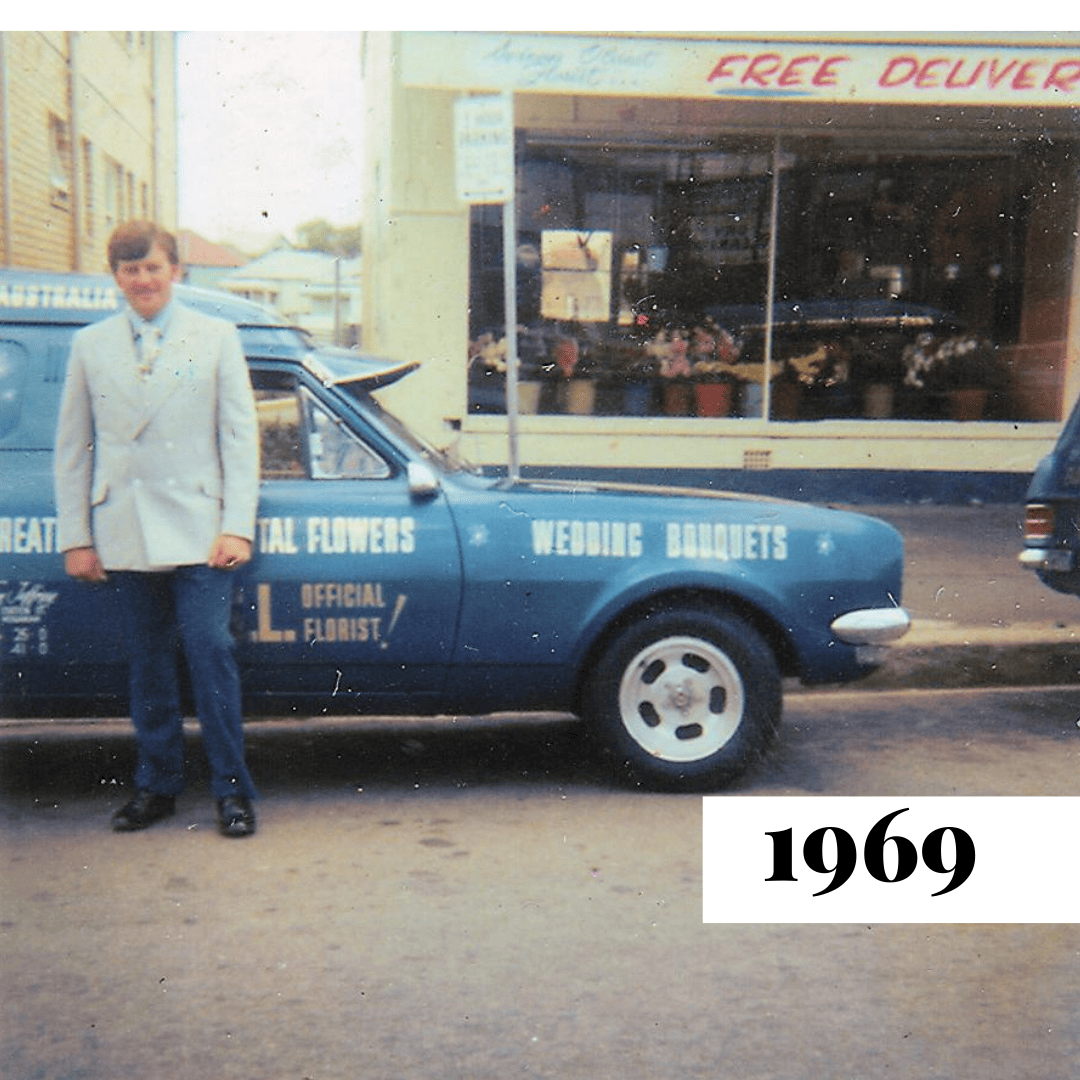 My Dad, David Jeffrey, grew up amongst the flowers, helping run the flower shops around Sydney. He's pictured here outside the Kogarah Florist.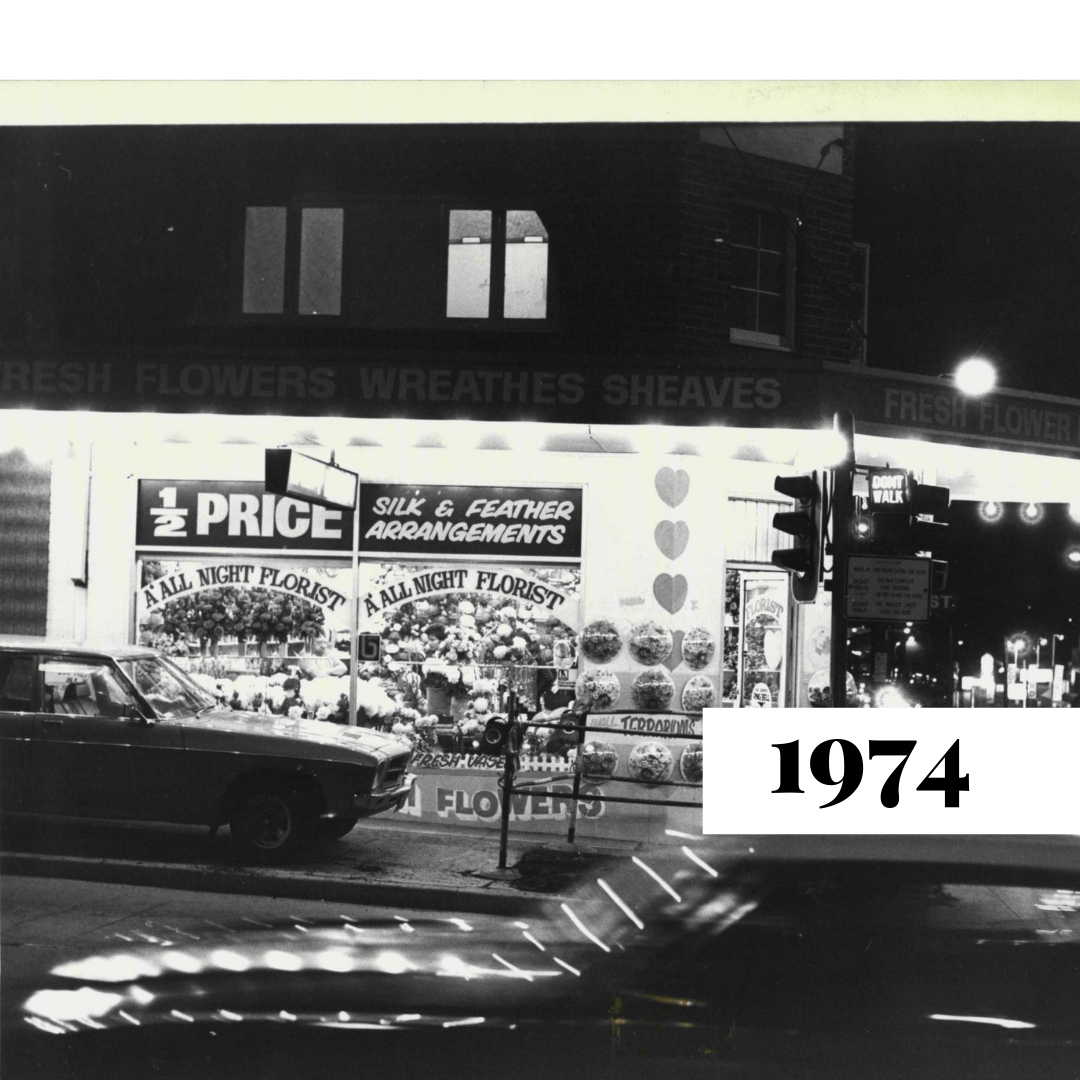 My Dad and Grandfather opened All Night Florist on Parramatta Road at Burwood in 1974. It became known as the Big Pink Flower Shop with huge teddy bears in the windows famous for being open all night and all day.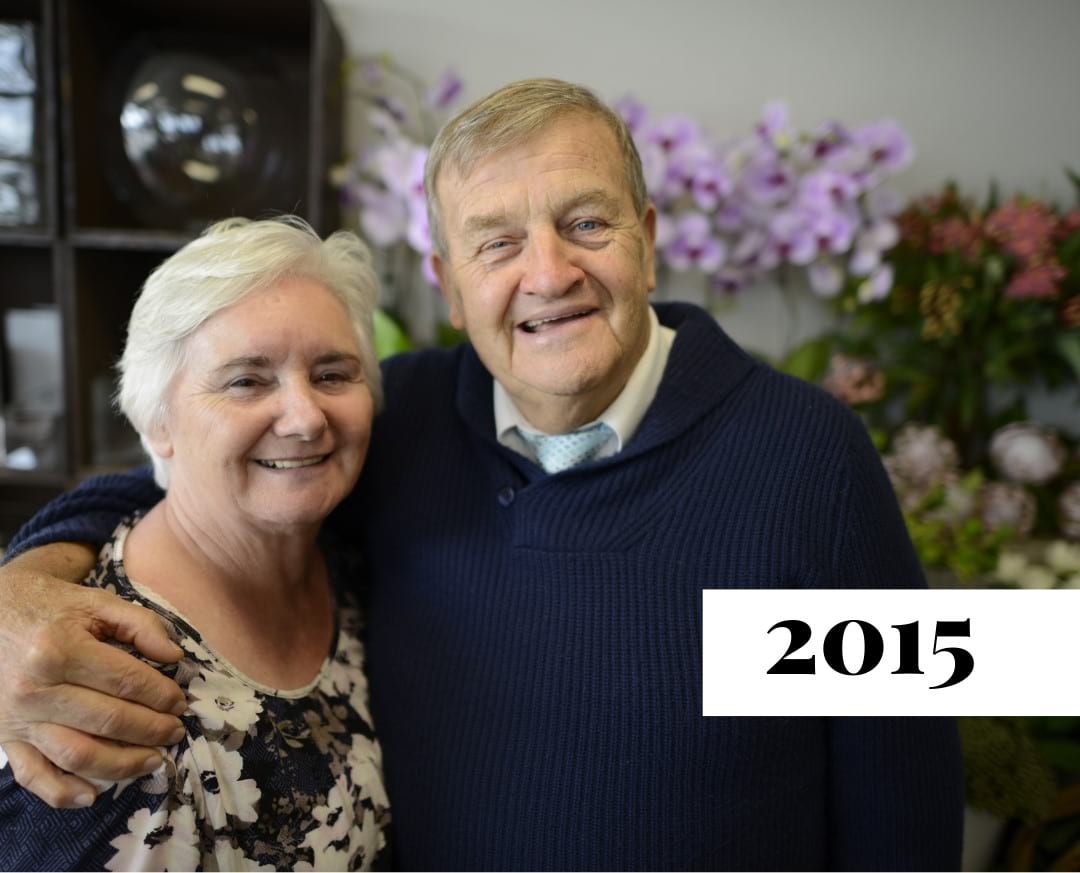 Mum and Dad (David and Moira Jeffrey) retired in 2003 and we took over the family business. We renamed it Urban Flower and continue our life amongst the flowers today.
We're so grateful for your support of our business.
We love what we do.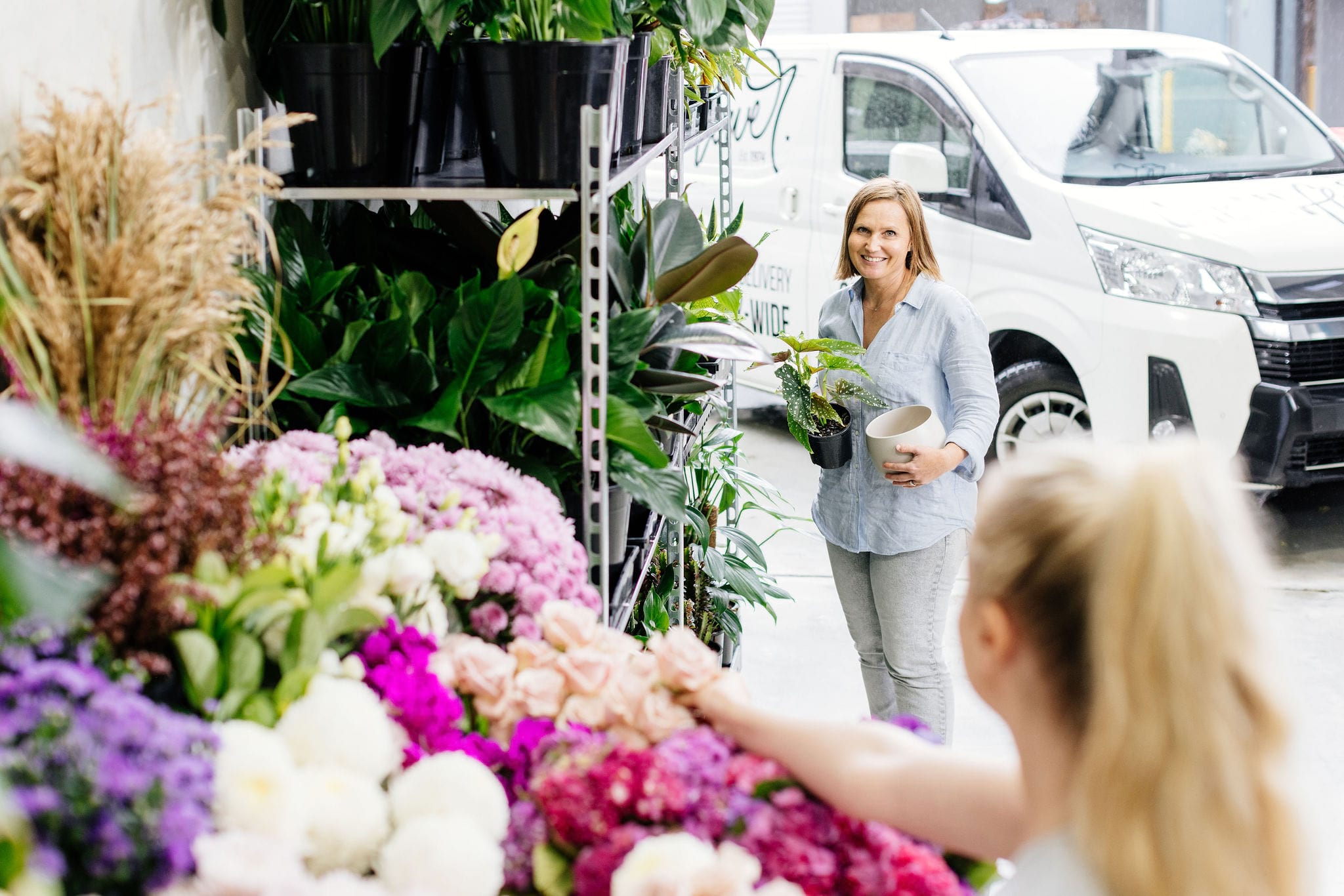 Our Family Story
Urban Flower is a family business in every sense of the word. We've been in the flower game for four generations.
The story begins with Gaetano Giuffre, known as 'Tom'. Born in 1879 on the island of Salina, Messina, Italy he came to Australia when he was only 10 years old. A fellow Italian immigrant taught him to grow and sell flowers. By the time he was married in 1902 his occupation was listed as florist.
He bought some property in Mascot between Sutherland, Coward, King sts & Botany Road where he grew flowers to supply florists and the Sydney flower markets. His young family were very involved in the family business, his son Joe used to drive the flowers by horse and cart into the city's Queen Victoria Markets and surrounding florists. He owned several florist shops throughout the Sydney city. His main store was located at 100 Phillip Street, was more than just a florist to it's customers. It became a social gathering place, where customers would feel welcome to share a yarn over wine, crackers and cheese. Of his 13 children, most eventually got involved in the flower business.
One of his children that was always by his father's side was Anthony, known as 'Tony', Tom's eighth child. Tony ended up being in the flower business for his whole life. From early in his life, he was involved in all aspects of the flower game, from helping out on the farm, to selling the family's flowers. Apart from helping out on the farm, and running flowers around to florists all over Sydney, young Tony worked with Cliff Reynold's florist in the basement of Hotel Australia, and eventually opened his own florist businesses. In the city he sold flowers from a kiosk at Martin Place, and outside Her Majesty's Theater. While Tony was away fighting in Papua New Guinea in WWII, his brother Tommy bought a property in Peakhurst where he started growing flowers. In honor of his brothers who were fighting tin the war, Tommy named the property 'The Diggers Nursery'. He grew Violets, Cecile Brunner Roses, and bunch flowers such as Snap dragons, and marigolds. After returning from the war, Tony took over the nursery and began raising his young family.
Well known to most Sydney-siders is the big pink building, with huge teddy bears on Parramatta Road at Concord in Sydneys inner-west. We've been selling amazing flowers at this location since 1974, and have become one of the most long established and well known Florists in Sydney.
We established our online presence in 2001, and have become one of the most respected, and popular online florist stores in Australia.
We pride ourselves on friendly customer service and an eye for detail. Our creative florists boast many years of experience, coupled with the freshest flowers available. Our floral work is simply stunning and guaranteed to impress.
We have developeda reputation for being open extended hours. We are open 6 days a week, Monday to Saturday 7am to 5pm. With over 40 years experience, customers know that they can rely on us to be here, and to have an amazing supply of lush flowers ready for pick up or delivery.
Same day delivery is available each and every day we are open. If you need the perfect gift for a loved one, new baby arrival, birthday, get well. Whatever the occasion, we are here to help.
We have many years of experience specializing in Corporate, Office and Events, Weddings, Funerals and Parties.